Named in 2015 as Highly Commended in Food and Drink in the Cosmopolitan Blog awards, and a finalist in both Food & Drink and Travel in 2016 in the UK Blog Awards, Binny's Kitchen and Travel Diaries is a blog that captures a passion for food, luxury and memorable travel experiences.
With over 13,500 Instagram followers, 8151 Facebook fans and 5260 Twitter Followers, Binny's Kitchen and Travel Diaries is a fantastic blog to collaborate with.
I work in conjunction with Tourism Boards, restaurants and hotels  to create exciting and relatable content. I have a highly-engaged audience, so working with me ensures extensive exposure on a number of social media channels – Facebook, Twitter and Instagram. In addition to real time promotion, I write promotional blog posts within 2 weeks of visiting the destination or restaurant.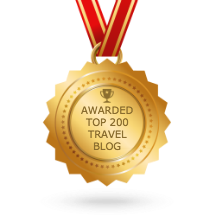 Foodies 100 Ranking
Currently ranked 100 on Foodies 100.
Website metrics
Domain Authority: 28
Page Authority: 39
Blog Photography
My primary cameras are a Canon EOS 760D, Olympus Pen E-PL7 and GoPro Hero 5 Black.
Accolades
I won Highly Commended in the Cosmopolitan Blog Awards 2015 for Best in Food.
I was also a finalist for Lifestyle and Food & Drink in the UK Blog Awards 2016.
Why work with me?
I am always keen to work with brands that compliment mine. I can help you target your customers in a new, exciting and compelling way – whether it's through a review of your hotel or restaurant, a guide about a travel destination, a sponsored blog post or engaging lifestyle content.
As a blogger with a background in Marketing, I can provide content that is instantly visible online, and simultaneously shared via my social media platforms to a loyal and engaged follower base. I will write honest and informed reviews and ensure a quick follow up and timely write up.
Get in touch today by emailing me at binnyjs@yahoo.co.uk to discuss press trips, restaurant reviews, creative production, partnerships, sponsored posts, editorial work and more. Let's see how a collaboration could benefit both of us.
Types of work:
Restaurant and Bar reviews
Press trips
Hotel reviews
Destination guides
Sponsored Instagram posts
Product reviews
Coverage of events
Sponsored posts
Long-term sponsorships
Food Photography
Photography projects
Previous collaborations include and are not limited to:
The Mexico Tourism Board
Thailand Tourism Board
Qatar Tourism Board
Sage Appliances
Marriott Hotels
Starwood Hotels
Qatar Tourism Board
Park Plaza Hotels
Kempinski Hotels
Thailand Tourism Board
Nescafe
Taj Hotels
The Langham, London
Brittany Ferries
P&O Cruises
Giraffe Manor, Kenya
Disclaimer: I will indicate if I received a complimentary product, meal or invitation. All the thoughts and opinions expressed on this blog are my own.
Please note that I don't accept advertising, infographics and guest posts on my blog.
SaveSave
SaveSave
SaveSaveSaveSave
SaveSave